L'Impératrice des Mouettes
The empress of Mouettes is an album realized for 111 ème anniversary of the Shipping line of Mouettes genevoises. It is about the first complete narrative, in 36 boards, realized for a company by BD-FORCE and BOU. Drawn by David on Georges Pop's scenario, with the cooperation of Christina Kitsos, The empress of Mouettes has for main frames the city of Geneva and the island of Courfou. The young person Basile, the apprentice on Mouettes, discovers by chance a half torn photo.
It will be the starting point of an animated investigation which will reveal an episode hidden from the life of empress Elisabeth of Austria, alias Sissi, killed by a mentally ill person in Geneva at the end of XIXth century. The album, which allows to discover Mouettes genevoises through a fictitious narrative, was presented to the press on June 27th, 2008, in the office of the newspaper GHI in Geneva.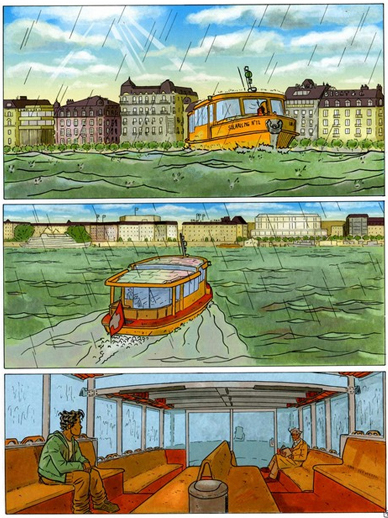 Drawing: David. Scenario: pop with the cooperation of Christina Kitsos. Conception: Georges Pop (BD-FORCE) Realization: Anabelle Bourquin ( BOU). The album includes 7 pages illustrated with information on Gulls Genevans and its partenairees, in particular UNIRESO.
Bound album and toilé of 52 pages. Size(format) 22.3 x 29.6 cms (body of work). Printed in 2500 copies in June, 2008 to the printing office Campiche to Oron-la Ville (HP).
© Mouettes genevoises Navigation –  June, 2008.
This album can be bought from the diverse counters (ticket offices) of Mouettes genevoises in Geneva.