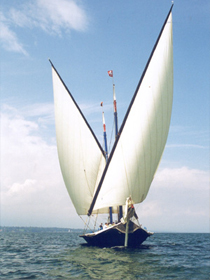 Whether you wish to discover the lakesides just by your own, or to organize a trip with your colleagues, we can transform your dream into reality. The Neptune can be rented for special occasions, family or business events. Heated and equiped of a permanent radio link, all destinations on the lake are possible.
Built in 1904 to Locum, near Meillerie for the transport of materials, the boat "Neptune" was acquired in 1971 by the State of Geneva to preserve a testimony of the commercial navigation on the Lake Geneva.
In 1976, the State of Geneva puts back the management of the boat to the Foundation Neptune.
Rates of rent
3 hours in the sail 33 places CHF 1'500.-*
3 hours in the engine 70 places CHF 1'500.-*
Extra hour CHF 400.-*
* Subject to change in 2019
Rents/Reservations: Fondation Neptune www.neptunegeneve.ch
Please contact us for further information.
Characteristics of Neptune
Length: 27.3 meters
Width: 8.5 meters
Draft: 1.80 meters
Weight: 72.5 tons
Height of masts: 15.5 meters
Height of antennas: 25.50 meters
Surface of the sails: 275 square meters
Crew: 1 boss and 6 bacounis
Capacity of load: 120 tons
Passengers: 33 persons in the sail and 70 persons from the engine
Video of the boat Neptune
Here is a showing video Neptune in full navigation.
© Grégoire ELMIGER – Bateaux du Léman