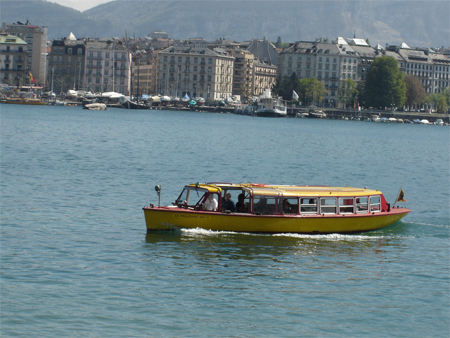 The Company of the Mouettes genevoises navigation SA (SMGN) manages a lakeside shipping line of Geneva (Switzerland) created on March 1st, 1897. These boats are collectively known under the name of  Mouettes genevoises.
The scope of the company is the natural harbour of Geneva where she serves 4,3 km of lines (lines M1, M2 M3 and M4). She navigates all year long since January 12th, 2004.
The Mouettes genevoises follow upon a service connecting Pâquis with Eaux-Vives and created in 1825 by Edward Church, businessman and consul of the United States in France. For reasons of slowness and noise, the existence of this boat with merry-go-round (paddle boat moved by horses turning on the bridge is however brief.
Until June, 2007, the activities of the SMGN were bound to that of the company Swissboat, who exploits the tourist fleet. A tourist line proposes the descent of the Rhône until Verbois.
Composition of the fleet
3 boats wooden history from 30 to 50 places.
1 boat hull(shell) steel of 50 places.
2 boats with solar electric propulsion of 60 places.
Evolution of the fleet
For lack of a development of new lines, the SMGN bends over the more modern construction of new boats. Projects are at present for the study with the cooperation of the State of Geneva.
The new landing stage Châteaubriand (as high as the street of the same name giving onto the Quay Wilson / right bank) is in service since 2010. He replaced the old landing stage of the Pearl of the Lake, less indeed connected to the lines of Genevan Public transports and inaccessible to the disabled persons.